Mari Durward-Akhurst European Silver Medalist (Team)
I am a 25 year old Grade 1 Para dressage rider, based at Trout Rise Farm in Hertfordshire and am trained by Rob Waine. I am a sponsored rider for Neue Schule.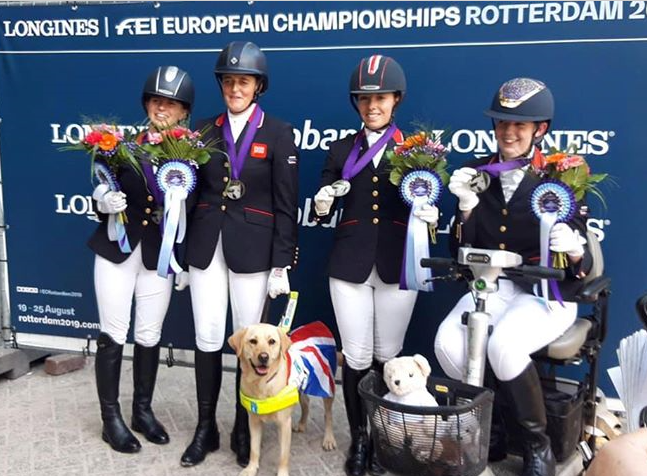 I started riding at my local Riding for the Disabled Centre for therapy. I won my first RDA competition when I was 11, the following year I qualified for the RDA National Championships. I was then talent spotted at a local Para competition.
I have represented GBR at Junior and Young Rider level in International Competition since 2007. In 2016 I won the Grade 3 Restricted Winter Championships before being reclassified to a Grade 1a (now known as Grade 1) due to a deterioration in my condition.
During my life I have faced many challenges due to my disability but I have been able to overcome these. I believe that these challenges and the problem solving that I have had to undertake have made me into the person I am today. I am constantly told that I am an inspiration so I have decided it's time to share my story by becoming a public speaker and inspiring others to follow their dreams.
When I was younger I was different to other children and as a result of this my disability made it hard for me to make friends. I used to get bullied a lot as I was different to other children and much slower than them. I started riding at my local Riding for the Disabled Centre for therapy as suggested by my physiotherapist. I found riding changed things for me as it was something that I could do which helped me physically and mentally, it was something that I was good at and I could excel in. I was able to develop a fantastic partnership with the horses that I ride and after I decided to have a go at competing it has all spiralled on from there.
I have always tried to do everything that others of my age have done and never saw myself as that disabled. I went to primary and then secondary school, did my GCSE'S and then stayed on for A levels; before going to University to study Sports Therapy. I am not going to lie I found my school and university commitments a challenge but I always had the support around me that ultimately helped me to succeed and in 2015 I graduated with a BSc Hons in Sports Therapy with a 2:1; a very proud moment for me and my family.
Sadly, due to a deterioration in my condition in 2016 after setting up and running my own business I had to stop working as I could no longer carry out my job role. I decided to become a full time athlete but with no funding this was going to be a hard task.
In 2018 I had an extremely successful year finishing the year as an International and National champion. I was one of only 12 to achieve the selection criteria for the World Equestrian Games and I beat a Paralympian at my grade for the first time; the first GB rider to do this.
A lot has been thrown at me as a result of my disability but I have never let it stop me. I have kept fighting and taking every opportunity that I was given and running with it. I am absolutely delighted to say that despite not being on a squad I was selected to represent team GBR at the Para Dressage European Championships.
I had a fantastic week scoring personal best scores and all scores over 70% and then a fabulous 75%+ in the freestyle finishing 4th; two judges had me for the bronze medal!!!! I helped the team to take Silver in the team competition and considering 3 of us were all at our first championship; a fantastic result!! As my trainer Rob said ''what an achievement for someone that isn't on any national squad!! We have chipped away, worked hard and pulled in the results making that Silver medal even more satisfying''.
Everyone dreams of winning a gold medal but to compete against the best riders in Europe in Grade 1 and to be placed is a fantastic achievement!! Time to build on what I have done and we will be going for the Gold next time!! To be selected to go was a dream come true to come back as a European medalist is indescribable!! It hasn't sunk in yet!!!!
With just under 1 year until the opening ceremony of the Paralympics the future looks very exciting!! My attention now turns to Tokyo and going for gold!!