Neue Schule caught up with Facebook blogger Stacey Mac Neidhe to learn the incredible journey she has shared with her ex-racehorse Blue from the racecourse to the dressage arena.
How did you first hear about Blue?
Originally, believe it or not, I was searching for a school master to loan that would help me progress up the dressage levels. I have a busy job as an English teacher and was looking to loan a horse to compete as it was more flexible given my work commitments. After searching online, I saw an advertisement for Blue – an 11 year old 15.3 former racehorse – who needed a rider to bring him on. He was the opposite of what I was looking for! Nonetheless, he caught my eye. His owner, Heather Gordon, had rescued him by purchasing him from the field and had successfully started rehabilitating him helping him to gain weight. However, in order to build muscle and to improve his mental wellbeing he now needed someone to work him on the ground.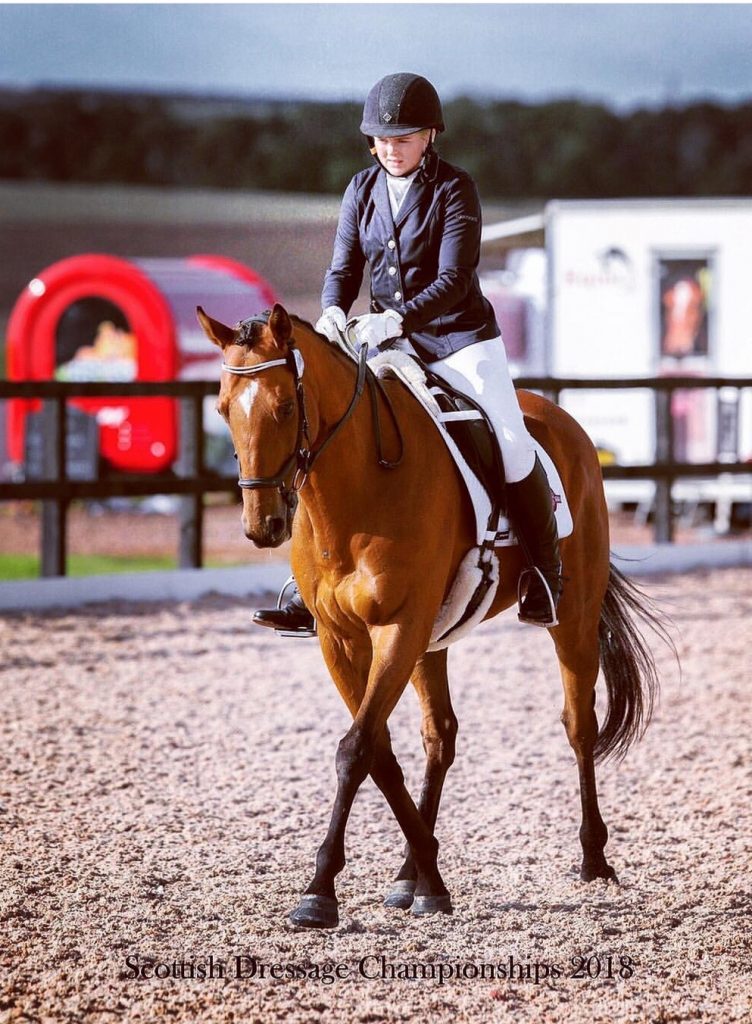 What condition was Blue in?
Unfortunately, he was in a very poor condition: he was covered in rain scald; it was the worst case the vet had ever seen. He also had a number of abscesses in his feet and was severely underweight with rib and hip bones on show. He was dull and rarely socialised with other horses instead choosing to withdraw into himself.
What first steps did you take in Blue's rehabilitation?
Initially, our main aim was to build Blue's confidence whilst under saddle. His passport had a few gaps and as a result we were uncertain of his training history. He was a nervous horse to begin with and appeared very apprehensive when in the school. Therefore, it was important for us to make this an enjoyable experience for him. We worked on this by praising small victories such as standing patiently at the mounting block or trotting calmly around the arena. Once we built his confidence in the school, we then focused on making him more aware of his movements helping him to find his feet and rhythm. We consulted the dressage scales of training regularly to structure Blue's retraining before adding in the next challenge.
What made you decide to use the NS Team Up, how did you find this benefited training?
Not knowing an extensive amount about Blue's training history, we treated him essentially like a youngster. He was unbalanced and presumably inexperienced. As such, he required a gentle bit that would encourage him to stretch into a contact. One thing we did know is that being a former racehorse he would have been taught to seek out a different kind of contact from the one we were hoping to achieve for dressage. After researching online, the NS Team Up was an obvious choice. Not only was it a gentle mouthpiece that provided tongue relief, it was also an ideal bit to lunge in which was an integral part of our retraining process originally in order to help Blue build his balance on his own.
What significant challenges did you face on your journey with Blue?
Initially, Blue found it very difficult to correctly pick up right lead canter. Having predominately been worked and raced on the left rein he was more supple on this side of his body. We had to take it right back to basics suppling the right side of his body. We did this using lots of leg yield to engage the right hind into a position that would help him strike off correctly. Having our goals set on a prelim test, we were determined to over come this hurdle.
How is Blue now?
Currently, Blue is schooling at novice and starting to dabble in elementary too – a far cry from our days of being unable to canter correctly! He even surprised us all by managing to master clean flying changes! Over the past two years he has consistently qualified for Scottish Championships at prelim and novice level. He has also qualified for RoR Championships, again at both prelim and novice level, placing 2nd and 3rd respectively at these events. Last year he also qualified for Petplan Area Festivals again at prelim and novice level. Not only this, he placed top 10 in the prelim Area Festivals qualifying for the next round of Petplan Area Finals too. Amazingly, last year he also qualified for British Dressage Winter Regionals at prelim silver level too.
What made you change to the Verbindend? Did you find it beneficial?
With Blue's training becoming more advanced we decided it was time to change his bit in order to allow more control of the lateral movements. Blue had now successfully lifted off the forehand and had a considerable amount of freedom through his shoulders. As the Verbindend allowed for greater clarity of the aids this was the perfect bit for us in moving up the levels and achieving more advanced movements. It is an ideal bit for Blue as, like many former racehorses, he is prone to holding tension in his jaw which this bit also helps to alleviate. The NS Team Up was essential for establishing the basics with Blue. However, without making the change to the NS Verbindend we would have struggled to successfully move up the levels and perform more challenging movements.
What has been your greatest achievement to date?
Although Blue has surprised us all and has surpassed many of our expectations, I would say his greatest achievement to date has been the acknowledgement of his success by Retaining of Racehorses who awarded him the Heart Stopper of the Year award for his achievements in overcoming adversity. This was a prestigious award to have been nominated for and involved a selective process of judging before RoR Patron Clare Balding OBE hand picked him as the winner.
Would you recommend retraining an ex racehorse to other experienced riders?
While the process has been very challenging at times and it is easy to forget that the first 2 – 3 years of our training we were not out competing at major shows but instead celebrating small on-the-yard victories, I wouldn't have it any other way. It is incredibly challenging at times and can often feel like a frustrating process of one step forwards two steps back. However, with the right help and support, especially from our dressage coach Karen Dewar, we have achieved what many believed to be impossible for this horse. It is an incredibly rewarding journey and makes for many special memories knowing you have taken a horse from this condition to national championship level.
What do you think Blue's life would have been without you?
I don't like to focus on what Blue's life would be like if Heather hadn't saved him, nor if his advertisement hadn't grabbed my attention that day. It still shocks me to this day to see the photos of him in such poor condition. Although he was not what I was originally looking for, I am forever grateful he caught my eye. I am incredibly fortunate to call him my dancing partner and so glad that he's found a platform in which he can excel and show off his skills.
For those interested in following Blue's updates Stacey runs a blog for Blue which can be found on Facebook: Racecourse to Dressagehorse
Thanks to Stacey Mac Neidhe for the insight.