We asked Neue Schule Ambassador, Dan Williams which items he couldn't live without on the showing circuit….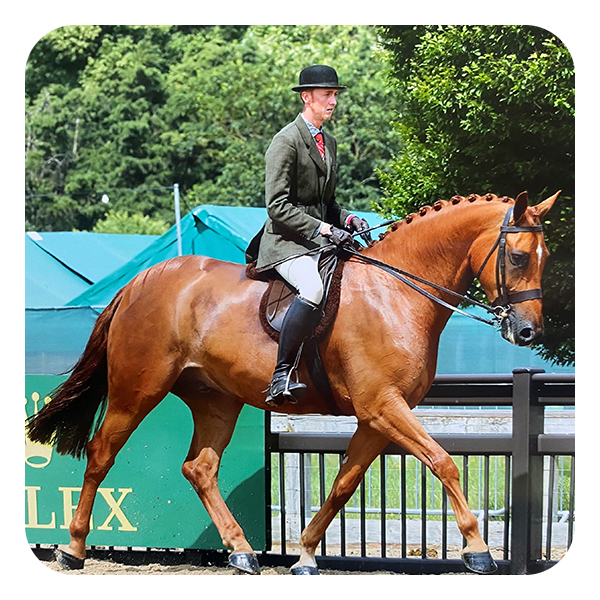 Well, I'd be crazy to give away all my secrets but I am happy to share some of my favourite go-to products and tools.
For me, turnout starts at home. All my horses go in the solarium before being worked to be groomed and again after to be washed down and finished off. Using my favourite brushes and a selection of products, I ensure that my horses always look ready to go into the show ring. keeping the greys clean is almost a full time job though and we have a rota of bathing for them. Some days are just a tail wash and others are a head to toe scrub.
Anyway, when it comes to show days, I do have some products and tools I couldn't be without. Hopefully, you'll find these make a big difference to your turnout too.
Although they're the last thing I do, quarter marks are my favourite part of the process so I will start with them.
I really do believe that if you have the right tools, quarter marks can be easy. Firstly, I start by wetting the horses croup with a mix of water and NAF Oil it Well. This gives me a base to work from and the oil gives the shine you need to make them stand out. Whether I'm doing stripes, a half diamond, a half Union Jack or a chequerboard, I use a simple, fine tooth hairdressers pin comb. These combs are super cheap and leave perfect, even lines. For the chequerboard design, I have trimmed a comb down to get the correct size but I still get the precision from the fine tooth comb.
To create the sharks teeth, I use one specific brush. Not that I'm dramatic but if I left this brush at home, I'd turn around and write the day off! I am joking… mainly because that would never happen. I have a stock of these brushes on the lorry and they're kept in a solid gold, silk lined box that is guarded by two dobermans 24 hours a day. Ok, I am slightly crazy and obsessed with the Equerry XL Body Brush but it really is a game changer. The square shape of the brush leaves such clean, sharp lines.
Once I have done my quarter marks, I lock them in place with NAF Make Your Mark and add the finishing touches by spraying them with NAF Dazzle spray. When that's done, step back and admire your handy work. If they're really good, ask someone you're with if they think they look ok and pretend that you don't know they are perfect!
Another part of turnout that I love is planting. Done correctly, it can change the overall picture of the horse. I am one of those people who will only ever plait an uneven number of plaits on the neck and the forelock plait creates the even number. Superstitious? Definitely!
As with my quarter marks, I have my go-to tools and products. I have a Smart Grooming plaiting apron which I couldn't be without. I use thick plaiting needles, waxed thread and either the Hairy Ponies plaiting wax or the NAF Plait It Up mousse, depending on how unruly the horses mane is. To separate the sections, I use my trusty hairdressing pin comb. the pointed end makes it perfect for getting that straight line in the sections. Another useful thing to have is a few butterfly clips to keep the mane you're not using out of the way. They're called butterfly clips but they're not the 90' style multicoloured ones I know many of you will be picturing. They would look cute though!
Like everything, practice makes perfect so have a go at home and see what works for your horse before you go to a show. If you're unsure, ask a professional, they will be more than happy to help. There are some great YouTube videos out there too.
There are a lot more products you'll find in my many bags and boxes residing in my lorry but they'll have to wait for another time. If you're unsure which one is the best for the job you want it to do, ask your local tack shop owner, they will have tried them all! While I haven't been able to give you a full list of what's in my grooming bag, there are a few items that I recommend everyone has with them. I keep mine in my ring basket so that I'm never caught short. Keep these 10 items with you at all times, you'll thank me one day!
A Neue Schule lip strap
A Neue Schule curb chain
Plaiting bands
A body brush
A micro fibre cloth
A hoof pick
Hoof oil
Fly spray
A bottle of water
Polos
I hope these tips help you with your turnout and keep an eye out for future advice blogs from me. Follow me on Instagram for regular showing updates.