Our fantastic distributors from Denmark, Sweden and Norway visited the Neue Schule offices on the 4th & 5th November for a fantastic two-day conference about bits, bitting and bridle fitting! The talks were led by Heather Hyde and Aisha Kirby and included a wider understanding of the science behind Bits and Bitting.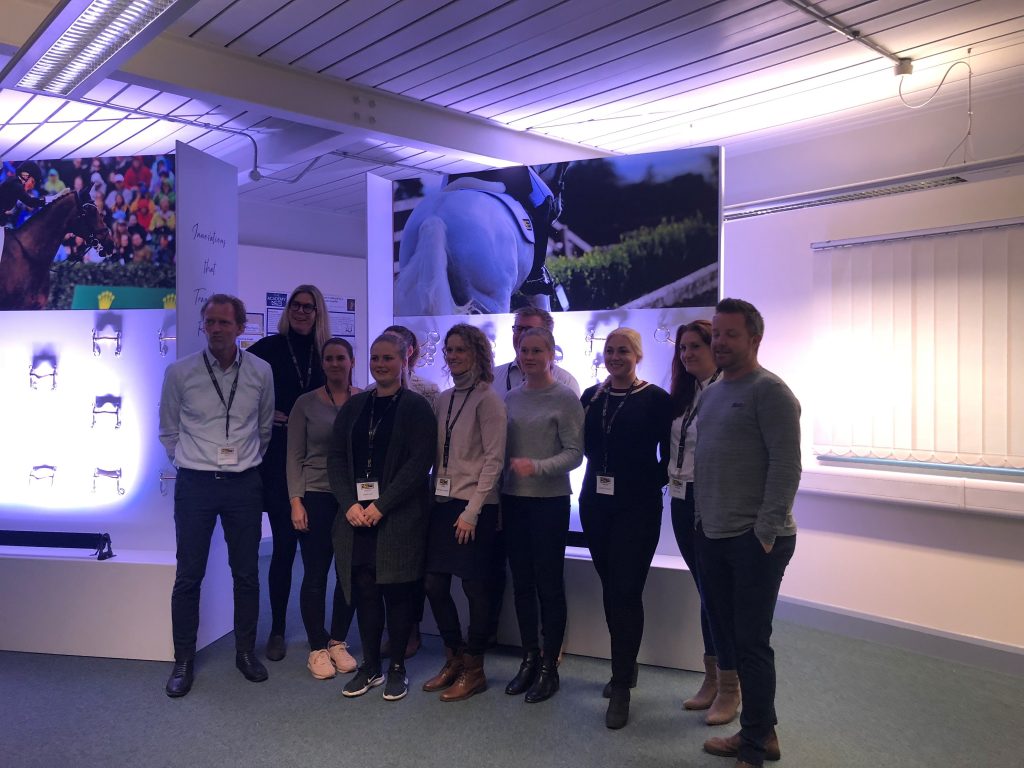 The morning started with introductions, coffee and biscuits. Once everyone had their fill of sweet treats and caffeine Aisha begun with a talk in the anatomy of the head and mouth. Eldorado also had the chance to meet Geraldine, Neue Schule's horse skull, and took the chance to investigate the bars of the mandible, the delicate nasal bones and the teeth. This was followed by Heather, who led a detailed discussion about mouth management, including how and why we advocate regularly checking the horse's mouth. Aisha then gave a talk on how lever and pully bits create pressure over the poll and how bits act in the mouth. After lunch Heather discussed the Neue Schule snaffle and weymouth range, when to advise on these and how to answer frequently asked customer questions.
Eldorado also received a sales talk Stefan Jepson, Neue Schule's Danish "Salgskonsulent"- or Sales Consultant in English! It's rare that Stefan has the opportunity to get so many of his retailers together in one place, so it was the perfect opportunity to provide advise and guidance.
Monday's lectures were topped off with a talk from Aisha, who gave a brief overview of the history of bits and bitting; Heather, who discussed the design process and how she develops new bits; and Jonny Worth, Neue Schule's Operations Manager, who walked us through the manufacturing process.
The evening didn't stop there, as we then travelled down to our local restaurant for a fantastic three-course meal, wine and an opportunity to get to know our overseas retailers more. There were plenty of laughs throughout the night!
Sunday was a slightly shorter day, as Eldorado had to travel home. Heather started with a talk about Neue Schule bits for Faster work- an extremely important topic for the Icelandic horses in Denmark, Sweden and Norway! This was followed by two talks by Aisha; the first on the Avansce Synchronicity™ Rein tension equipment and how it can benefit the rider, coach and retailer; the second on how bridle design influences bitting the horse. Historically, the bridle hasn't been given as much research consideration as saddles, and as it works so closely with the bit it must be considered when advising on bits and bitting. Heather topped off the two days with a final talk about how Neue Schule helps and supports the retailer before we broke for lunch and hot drinks. Sadly, it was then time to say goodbye as Eldorado had to head home. However, we are looking forward to seeing more of Eldorado's retailers again in the future!