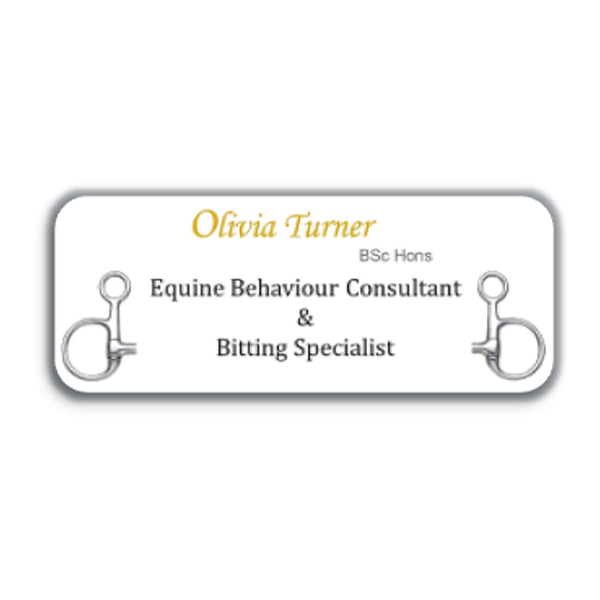 Bit Fitter Name
Olivia Turner
Business Name
Olivia Turner Equine Behaviour Consultant & Bitting Specialist
Area(s) Covered
Hertfordshire
Cambridgeshire
Essex
Bedfordshire
Buckinghamshire
North London
Norfolk
Suffolk
Other areas of expertise
Equine Behaviourist
Email
oliviaturner.animalbehaviour@gmail.com
Telephone
07956 205937
Website
www.oliviaturnerabc.co.uk
Additional Information
Travel charges may apply
---
Biography
I've been working professionally with animals for 10 years since graduating with a first-class BSc Honours degree in Animal Behaviour and Animal Welfare. I work with private clients resolving behavioural issues in horses and dogs alongside lecturing in behavioural science and giving local talks.
As a behaviourist I have an in-depth knowledge of equine behaviour and body language and will analyse this both on the ground and under saddle. I like to take the whole horse into account to accurately identify the root cause of any issue. It can be easy to miss the subtle signs horses will give us when something isn't right and if unresolved can manifest into more complex behavioural problems. I've found many horses showing signs of stress and discomfort were also struggling with an unsuitable bit. I therefore decided to qualify as a bit and bridle fitter to learn more about bits, how they can affect a horse's performance and how to select the right bit for a horse and its rider.
For many of us horses are a huge part of our lives. They are our pets, our companions and our athletes. We owe it to our horses to provide them with the best possible care and ensure the equipment we use is both suitable and comfortable; your bit is just as important as your saddle! I now get to work with some amazing horses and riders to remedy any bitting issues and find them that perfect bit to suit their partnership, all the while keeping the welfare and comfort of the horse a priority.